"Going green isn't just a trend; it's a conscious choice towards ensuring a healthier lifestyle for our clients and safeguarding our planet for future generations. It's about unraveling the mysteries of sustainability and embracing the essence of clean beauty in every aspect of our salon. ." - Jacquelyn Rodriguez
Introduction:
In the beauty industry, it can often feel like we're swimming in a sea of buzzwords: green beauty, clean beauty, sustainable beauty. These terms are splashed across product labels, embedded in marketing campaigns, and increasingly demanded by informed customers. As salon owners, understanding these terms is crucial for transforming our salons to align with evolving client expectations and trends.
Listen to the podcast
Get INSTANT ACCESS To Your FREE Workbook NOW https://www.cleanbeautybiz.com/green
That's why we're here today to dissect these often-misunderstood concepts, and discover how they can transform your salon.
The False Dilemma: Green, Clean, and Sustainable Beauty
A common misconception in the beauty industry is that going 'green' or 'clean' is too complicated or too expensive. Traditional methods seem easier, and perhaps you've seen salons struggling to implement these practices. But here's a refreshing perspective: embracing these concepts isn't about a drastic overnight transformation but gradual changes that can have profound effects on your salon, your clientele, and your bottom line.
Take Aveda, for example. They've built a reputation on environmentally responsible practices and natural, plant-based ingredients. Their success stands as evidence that 'green' practices can be profitable and rewarding.
So, what do these buzzwords really mean?
Green Beauty
Green beauty involves environmentally friendly products and practices. This includes holistic considerations from sourcing ingredients to packaging. But beware of "greenwashing," where products claim to be green but may still contain environmentally harmful elements.
Clean Beauty
Clean beauty focuses on products that are safe for human health. These products avoid harmful chemicals and potential toxins that could affect the body in the long run.
Sustainable Beauty
Sustainable beauty ties together the concepts of green and clean beauty with a focus on social responsibility. It contemplates the entire lifecycle of a product, including ethical sourcing of ingredients, fair trade practices, cruelty-free testing, and respect for both people and the planet in the supply chain.
Here's a breakdown: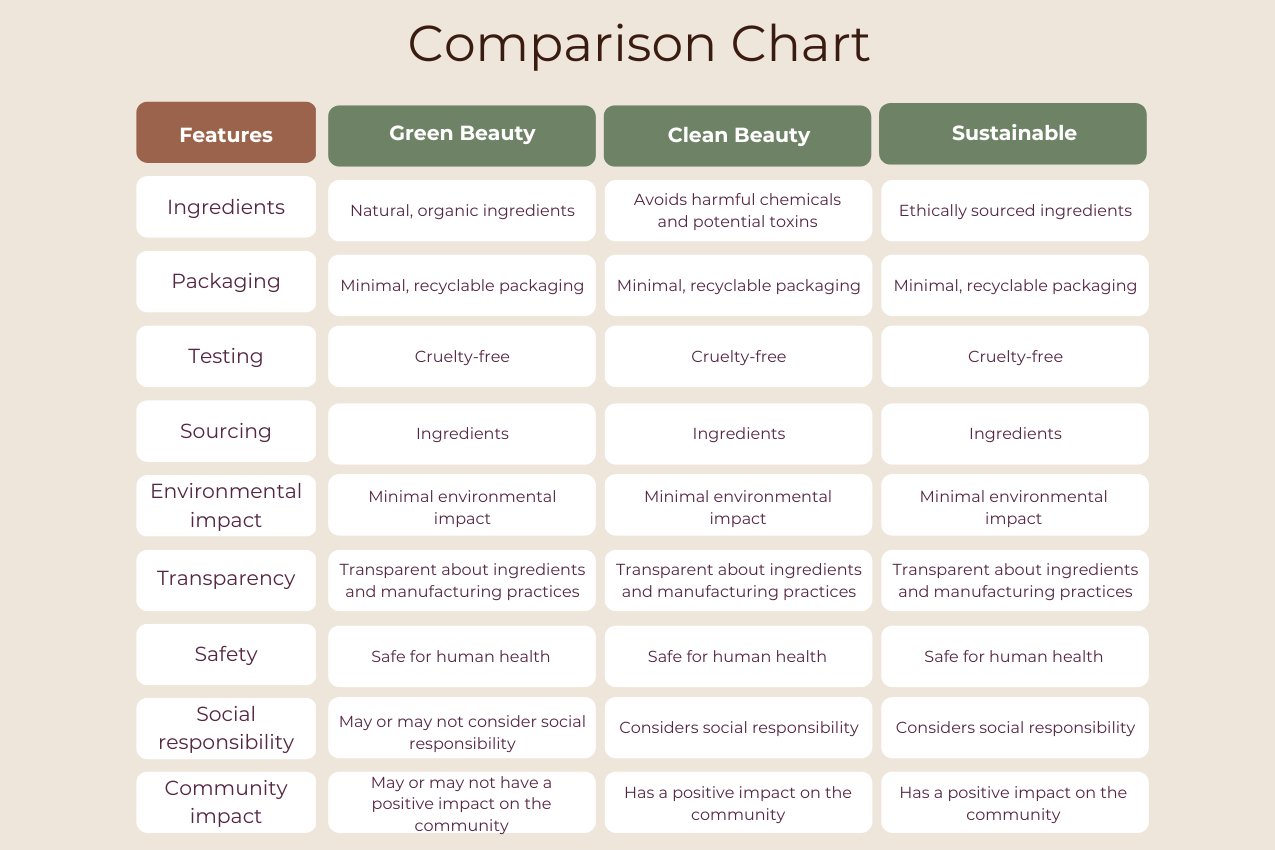 Green, Clean, and Sustainable Beauty in Action
Now that we understand the concepts, let's explore how some brands bring them to life:
Oway: This hair care brand embraces all three categories. They use natural, organic ingredients, practice cruelty-free testing, and commit to ethical sourcing, fair trade practices, and supporting community initiatives.
Organic Colour Systems: This brand also integrates all three concepts and promotes values such as Ahimsa (non-violence), integrity, and collaboration in product development. They do not test on animals and use ingredients that are harmless to humans and the environment.
All-Nutrient: This brand falls under the green and sustainable beauty categories, with natural, organic ingredients, ethical sourcing, and a commitment to transparency.
While all three brands embrace elements of clean beauty, All-Nutrient does not market itself as such. However, the brand does meet many clean beauty criteria by avoiding harmful chemicals and potential toxins.
Making the Transition
Transforming your salon into a hub of green, clean, and sustainable beauty is a journey. It requires understanding these concepts, making conscious choices, and a commitment to continuous learning.
Remember, you're not alone. As part of the holistic salon community, we're here to support each other. Each small step you take towards adopting these practices in your salon makes a significant difference.
Whether it's switching to eco-friendly cleaning products or offering natural, organic hair, and skincare lines, every step towards green, clean, and sustainable beauty matters. It's up to you to make that choice.
Embrace the Future
The question is, will you continue down the same path, ignoring the growing demand for clean, green, and sustainable beauty, or will you transform your salon into a forward-thinking, environmentally conscious business that truly values its clients' well-being and the world we live in?
If you're ready to embark on this transformative journey, we're here to help. Keep informed while making decisions for your business with our handy cheat sheet (link in the blog post).
Remember, your commitment to providing your clients with services that nurture their well-being, respect the environment, and contribute positively to society makes a world of difference. Not just for your salon, but for our industry and our planet.
Every step towards green, clean, and sustainable beauty is a step towards a healthier, brighter future. The choice is yours.
---